"Luck of the Irish FAB CRAWL"
Saturday, Mar 14 / 11:00 AM - 8:00 PM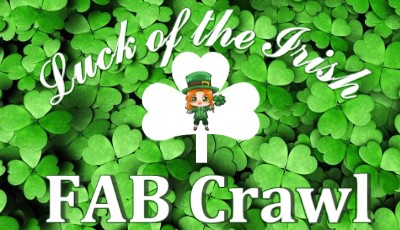 List of Businesses and Speical Offerings in the FAB Crawl:
Adventure Bound Books - Come to the bookstore and find a pot of leprechaun's treasure (hidden somewhere in the store) and receive a 25% discount (valid March 14th only) on your purchase. Several will be hidden throughout the day - only one find per customer. Plus snacks and craft/coloring for the kids and an Author Event with Sarah Shaber.
Aqua B Boutique - 20% discount in the store + light refreshments.
Bella Vino
Bigfoot Climbing Gym
Breathe Yoga & Pilates - 10% off of all class packages purchased on March 14th + discounts on retail items.
Brown Mountain Bottleworks - Green beer, barbecue and pimento cheese sandwiches by the winners of Give Cheese a Chance and Bardic Alchemy celtic band 7:30-10 PM.
Burke Arts Council
Catawba Brewing Company - Celtic Band TBD 8-11pm, Selection of Irish Beers and Optional Green Beer.
Craft'd Sip ~ Shop ~ Socialize
Fonta Flora Brewery
Food Matters Market & Cafe - Featuring house-made Irish Bangers in Meat Dept.
Green Eggs & Jam
The Grind Cafe
Hamilton Williams Gallery
Hot Box Vintage - 10% Off!
Main Street Jams
Moondog Pizza - Cold Brew Irish Coffee Cocktail + food specials and band. Food specials include items such as: Irish Nachos, Beer Cheese Garlic Knots, Shepherd's Pie Pizza, Irish Coffee Custard.
Mountain Gallery & Gifts - Free green beads and pins giveaway!
Reece Winery
Salon91 - Featuring artist Danny Bernard. Snacks and wine while supplies last.
Swede's Cafe - Local Vendor Pop Up featuring 8 vendors + Key Lime Scones.
The Natural Olive
The Nook Tavern - Featuring Guiness and Irish Red Ales.
Toasted and Rolled - Lucky charms ice-cream, specialty brownies, cookies, cinnamon rolls, and Lucky ice cream floats.
Treat - Menu featuring fish and chips entree & lemon basil cocktail.
West Union Art Studio - Door prizes & ceramic Irish gold for kids.