"Paint Party"
Tuesday, Feb 25th / 6:00 PM - 9:o0 PM
Twin Brothers Pizza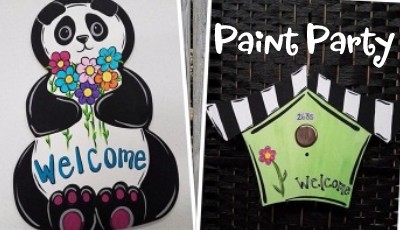 Panda / Bird House Paint Party
These wooden door hangers are perfect for beginners and no art skills are needed. I promise by the time you are finished you will be in love with your painting. Just trust the process & have fun!

IMPORTANT DETAILS:
This party will be set up with everything you need to create this cute 18 inch Panda wooden door hanger or the 12 inch Bird House. All you have to do is pre-register and show up. We take care of the rest. Even the clean up! We walk you through the process step-by-step & even help you along the way with finishing touches. Please wear clothes that can get messy (just in case)!

The party will be about 2.5 hours long which gives you plenty of time indulge in something delicious from the menu while you are painting. (This ticket does not include the cost of the meal.)

TICKETS: You must pre-register to participate in this event!! Tickets must be purchased by Noon on January 21st. Tickets are $33 per person. All the art materials you need will be provided. Remember seating is limited so get tickets for you and your friends/family if you want to do this together.
ARRIVE AT 6pm on Tuesday 25th to get settled in. WE WILL BEGIN PAINTING AT 6:30PM!
If you would like more information call/text 828-234-9388

719 Main St East, Valdese, North Carolina 28690
- view map -