††††Christmas Cheer Bicycles
Donation can make a bigger world for a child

Thereís something special for a child about climbing on their two-wheeler and heading out on the open road. A bicycle empowers a youngster. No longer are they subject to just going wherever their parents want to go. The entire world, or at least their neighborhood, can be reached by pedal power. Children learn the rules of the road, how to safely get around their community and the responsibility that comes with being on the streets.

Owning a bicycle is one of the first steps for a child on the way to adulthood. Sadly, there are plenty of kids in our county who donít know the joy of owning a bicycle. The Menís Club of Morganton, along with Christmas Cheer, is working to change that. Last year, the groups distributed over 300 bicycles to needy children in our area through the Bikes4Kids program. The club has a similar goal for 2014.

Men's Club of Morganton is accepting $50 donations to provide a bicycle to a child at Christmas. Gently used bicycles can also be donated to the organization. Pre-loved bikes can be dropped off at the Morganton Recreation Center on Collett street.

For just $50 or taking the time to get an outgrown bicycle out of the garage, you can bring so much joy to a child in your community. Additionally, the child will begin learning some of the lessons that will help shape the rest of their lives.

All donations are tax deductible and can be made online or mailed to The Menís Club of Morganton, PO Box 3825, Morganton, NC 28680. Christmas Cheer will provide local needy kids bikes mid-December. Plenty of organizations are doing great things during the holiday season to help those in need. And certainly we should all give what we can to help out neighbors. But just think about the look of joy on a childís face when they see their very own two-wheeler. Thatís pretty special!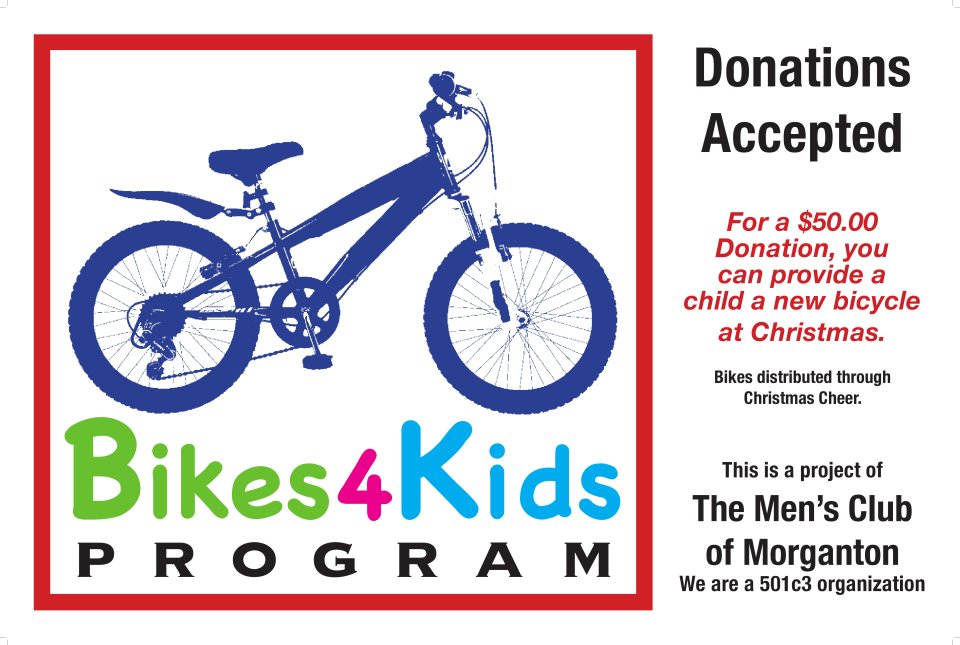 Remember, all donations are tax deductible and can be mailed to:
The Menís Club of Morganton
PO Box 3825, Morganton, NC 28680.

Donate Online