The concrete ribbon of I-40 was framed on the north by the faint outline of Table Rock, as it jutted skyward in the late summer afternoon haze. Opposite, the stately South Mountains were silhouetted against cloudy blue-gray skies. It was good to be home.

The fact that "we live here", in this beautiful area of North Carolina, was to be the subject of today's Burke County Notebook. I had planned to expound on the many wonders of my native midwestern family's adopted state, such as all the magnificent places we can be in under an hour. We've traversed the high elevations of the Blue Ridge Parkway, surrounded by layer upon layer of smoky mountain ranges. We've driven the winding Highway 181 to Jonas Ridge, then down through Linville Gorge or up to Grandfather Mountain and Blowing Rock. We've hiked mountain paths, gazed at cascading waterfalls, and are still amazed by the height of the towering trees and even the Kudzu sculptures. South Mountain Park, historic mansions, a quaint downtown square and the small neighboring towns and roads just waiting to be explored, all continue to delight us, even after living here four years.

But on July 7th my world changed. My earthly perspective was altered and thoughts of where we live took on a new and deeper meaning. Yes, we live here. But we aren't Home yet.

In 2000, I retired early from my library job to become my mother's full-time caregiver. When we moved to Burke County in 2002, Mom came along.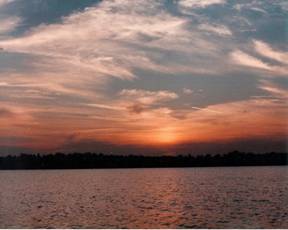 We tried to make her feel at home with her own space and surrounded by things she loved. Though I know she was grateful to be living with me instead of in a nursing home, I probably never fully understood how difficult it was for her to leave her home, friends and other family. She was quick to tell that she was, and would always be, a Kansas girl. Countless times we heard "it's not like back home", when something didn't quite measure up to Sunflower State standards. The beautiful mountain view from our backyard never quite compared to a sunrise on the lake where she lived for 24 years. Mom didn't like our mountain roads but preferred straight country lanes that formed a square country mile. She had a sparkle in her eyes as she talked about "home" - both her Kansas home and especially lately, the new Home she longed to see.

Mom has taken her final journey back to Kansas. A marker in a peaceful cemetery called Prairie Home, bears the names of both my parents. But they aren't there. They're with the Lord they served, in a brand new Heavenly Home. This promise in 2 Corinthians 5:1 was underlined in Mom's Bible:


"For we know that if our earthly house, this tent, is destroyed, we have a building from God, a house not made with hands, eternal in the heavens."

Sounds like the perfect place to hold our next family reunion.


The twists and turns of our earthly journey, and the friends we meet along the way are just parts of our rehearsal for eternity. Our faith in the Author of Life erases this world's ordinary shades of gray and opens the door to reveal the vivid colors of that land beyond the rainbow. His promise of an Eternal City will one day transform life's ordinary brick roads into golden streets that lead to the throne of God. There's a sign on our front porch that says "Toto, we're not in Kansas anymore." Mom would probably interpret that quote differently than I would, but on this we agreed:

"There's no place like Home."