. . and Good Friends Congregate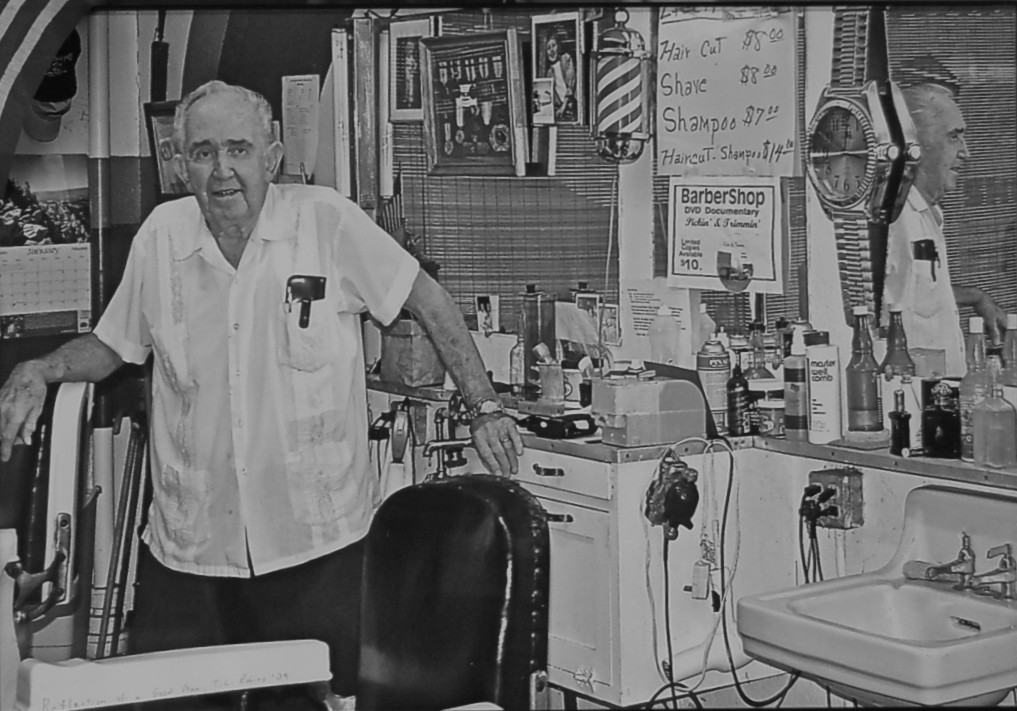 Venture one mile off Hwy. 70 onto Hwy. 114 to downtown Drexel. This is where you'll find a landmark that has stood for over 60 years. It's far more than a place where local residents go for a haircut or shave. It's a place where good friends congregate.

Lawrence Anthony opened his shop on February 12, 1949. Over the years, his shop has been the host of many an impromptu "concert." Friends and neighbors, as well as folks from all around the state - from around the world, coming from as far away as England, have stopped by to play for a while, talk - perhaps tell a story or two before heading on. "If only those walls could talk!" But hay, you know what? The walls do talk! Everywhere you look around the shop, you'll find memorabilia that tells a story. From pictures of General George S. Patton to the old guitar that Lawrence carried with him inside his tank where he served in Patton's tank brigade during WW2.

The walls also give a pictorial history of those who have found their way to The Barber Shop on main street. The walls are filled with hundreds of pictures of famous people who came to play and fellowship: many of the folks are area residents but some have come from as far away as England. They stopped by, played for a while and then continue on with their day.

Lawrence is no longer with us; he passed away a couple of years ago. Lawrence is survived by his son, Carroll who is in the process of restoring the shop. Holding down the fort is David Shirley. David has been working at the shop for over 45 years. He originally came on board as an interim barber while Lawrence looked to find a replacement for a barber who had left the area. "I feel very fortunate to be doing what I enjoy while making a few dollars." David has many a story of his own and if you stop by the shop for a while, you're sure to hear one or more of them.

Some of the folks well know to the shop are Raymond Eugene "Jo Jo" Patton, Herb Lambert, Matt Born, David Wiseman . . . it's a long list. If you would like to experience a "Saturday Jamboree," you just need to stop by the barber shop, oh let's say around 10 am on Saturday morning; or perhaps you should arrive just a little earlier, say sometime around Friday – or perhaps Thursday would be better. You just never know when a group of friends and musicians will decide to congregate, talk for a while, tell a story or two and get out the old fiddle and jam.

By the way . . .
There is a professionally made DVD and if you stop by the shop, you may be fortunate enough to pick up (for a very modest price) a remaining copy.
Higher resolution photos are available FREE, upon request. Just tell us the "name" of the photo you're requesting. You can get this information by clicking on a thumbnail photo above. Your photo will be sent via email.


- request a photo -